Emerging pollutants in the EU: 10 years of NORMAN in support of environmental policies and regulations
Environmental Sciences Europe
Bridging Science and Regulation at the Regional and European Level
2018
30:5
Received: 25 October 2017
Accepted: 22 January 2018
Published: 22 February 2018
Abstract
In 2005, the European Commission funded the NORMAN project to promote a permanent network of reference laboratories and research centers, including academia, industry, standardization bodies, and NGOs. Since then, NORMAN has (i) facilitated a more rapid and wide-scope exchange of data on the occurrence and effects of contaminants of emerging concern (CECs), (ii) improved data quality and comparability via validation and harmonization of common sampling and measurement methods (chemical and biological), (iii) provided more transparent information and monitoring data on CECs, and (iv) established an independent and competent forum for the technical/scientific debate on issues related to emerging substances. NORMAN plays a significant role as an independent organization at the interface between science and policy, with the advantage of speaking to the European Commission and other public institutions with the "bigger voice" of more than 70 members from 20 countries. This article provides a summary of the first 10 years of the NORMAN network. It takes stock of the work done so far and outlines NORMAN's vision for a Europe-wide collaboration on CECs and sustainable links from research to policy-making. It contains an overview of the state of play in prioritizing and monitoring emerging substances with reference to several innovative technologies and monitoring approaches. It provides the point of view of the NORMAN network on a burning issue—the regulation of CECs—and presents the positions of various stakeholders in the field (DG ENV, EEA, ECHA, and national agencies) who participated in the NORMAN workshop in October 2016. The main messages and conclusions from the round table discussions are briefly presented.
Keywords
NORMAN network
Emerging substances
Contaminants of emerging concern
Science-to-policy
Environmental monitoring
Background
This paper, triggered by the 10th anniversary of the NORMAN Association [1] and the outcomes of the workshop that was organized to mark this occasion, discusses the work performed within the NORMAN network over the last 10 years and the way forward to improving Europe-wide collaboration on CECs and related policy-making.
It is now about a decade, since the term "contaminants of emerging concern" (CECs) became a common term for chemicals that are currently not regulated (not submitted to a routine monitoring and/or emission control regime), but may be under scrutiny for future regulation. In addition, it is now common knowledge that the contaminants of interest are not necessarily newly developed chemicals: most CECs are substances that have entered the environment for years, even decades, but their presence has only recently begun to be investigated. Most known CECs include industrial compounds, pharmaceuticals, personal-care products, biocides, and plant protection products, but the list of compounds is constantly growing and this is not surprising when we consider that more than 100 million chemical substances are currently registered in the Chemical Abstracts Service (CAS) and about 4000 new ones are registered every day. According to the number of registered and pre-registered substances in REACH, 30,000–50,000 industrial chemicals are found in daily-use products [2, 3] and they are potentially ultimately released into the environment. Chemicals are everywhere, in the water we drink, in the food that we eat in the homes in which we live.
There are increasing concerns about the combined effects of this multitude of chemicals as they enter the environment and the food chain, although each chemical used in a minute quantity may be considered harmless [4, 5]. In addition, there is today a general consensus among policy-makers that emerging substances need to be addressed in a systematic and coherent manner. It is also widely accepted that there is a need for an early warning system able to play the role of the "watchdog". Such a system should anticipate the risks associated with the dynamic change in the use of chemicals so as to prevent the environmental impact of chemical substances before they become "contaminants of emerging concern". In other words, our ultimate objective should be to advance our knowledge and environmental monitoring abilities to the point, where the need for the term "emerging" disappears altogether [6].
In 2004, NORMAN came into existence following a call by the EU Commission (DG Research) to create "a permanent network of reference laboratories and related organizations dealing with emerging environmental substances" [7]. Its main objectives—on which it has been working actively over the past 10 years—are to improve the exchange of information on emerging substances and to foster harmonization of protocols and improvement of data quality.
Today, NORMAN is an independent and highly recognized network of reference laboratories, research centers, and related organizations for the monitoring of contaminants of emerging concern. In 2006, its first full year of operation, it was a consortium of 17 members; today, it is a self-sustaining, non-profit organization of more than 70 members.
Five pillars constitute the NORMAN objectives:
Independent, transparent, and open network, working for a sustainable environment without harmful substances.

Go-to organization for issues on emerging substances in the environment.

Watchdog and alarm bell for emerging environmental threats.

Bridge between science and policy-making.

Platform for innovative bottom–up initiatives to explore new monitoring challenges.
To achieve these goals, NORMAN brings together not only the scientific community on emerging substances but also the many agencies actively involved in the decision-making on emerging substances and even private companies. The multidisciplinary membership of NORMAN has proven to be a strong point as it helps to pull knowledge of emerging substances together and pushes the latest scientific findings towards policy-making. The activities are organized in eight working groups dealing with different CECs aspects, i.e., prioritization, effect-based tools, effect-directed analysis, nanomaterials, wastewater reuse, indoor environment as well as two cross-working group activities on passive sampling and non-target screening (Fig.
1
).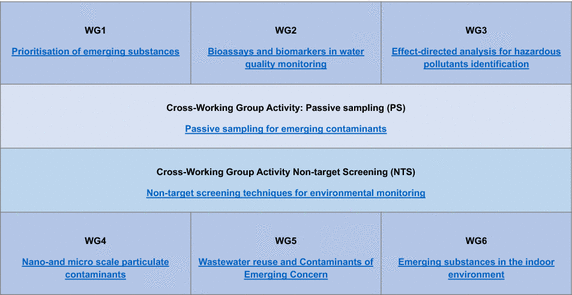 NORMAN publishes a bulletin on CECs, with information on current initiatives, results of collaborative projects and future perspectives in the field [8]. More than 30 international events [9] have been organized by NORMAN since 2006 and position papers have been published on various relevant topics by NORMAN experts, such as passive sampling [10], effect-directed analysis [11], and more recently a paper with 10 recommendations [12] for the review of the Water Framework Directive (WFD) [13], developed in collaboration with the SOLUTIONS project [14].
The stakeholders at the 10th anniversary workshop unanimously agreed that NORMAN has succeeded in building a strong infrastructure and developing tools to connect science and policy. NORMAN has also proven to be a good platform to reach consensus among experts for harmonization of practices.
Overall, NORMAN aims to play the long-term role of global early-warning platform for CECs, closely related to the non-toxic environment strategy [15].
NORMAN achievements and future perspectives
A first consideration when speaking about NORMAN's achievements over the last 10 years is that NORMAN has been able to establish and operate a collaboration mechanism to deal with the following crucial questions about emerging substances: What are the most suitable techniques and strategies to identify and prioritize potential problematic chemicals? Do we have enough data to assess the risks associated with CECs? Do the data pass quality criteria and are they representative enough? And do we have access to all the data that are available?
Stakeholders' views and recommendations for the NORMAN network
The NORMAN Steering Committee organized on the 10th anniversary of the network [73] a stakeholder workshop, which took place in Brussels on 26 October 2016. It attracted about 90 participants, with representatives from 60 organizations, including the European Commission, European Chemicals Agency (ECHA) and European Environment Agency (EEA), national authorities, research centers, academia, industry, and international stakeholder organizations.
National and European agencies, the European Commission, and relevant stakeholders were invited to present their experience with the work performed by the network so far and give their recommendations about NORMAN's future roadmap, with a view to improving Europe-wide collaboration on emerging pollutants and policy-making. The workshop included two panel discussions.
EU Commission DG ENV
According to DG ENV, the tools developed by NORMAN are useful to the Commission services and to the Member States. NORMAN has contributed significantly to the European prioritization process of the WFD with unique data sets (15% of the monitoring data used in the review process for the EU priority substances have been retrieved from the NORMAN EMPODAT database). However, challenges still remain for representative monitoring data of sufficient quality and for more holistic monitoring approaches. J. Romero (DG ENV) highlighted the following four main challenges.
As regards river basin-specific pollutants (RBSP), the efforts of the Member States clearly indicate that there is a need for improved and more comparable approaches between countries, in terms of both identification and monitoring of RBSP.
Prioritization relies largely on sound and comprehensive monitoring data. It is widely recognized that the lack of data is the primary cause of the lack of regulation of CECs, as a result of the vicious circle where: "no monitoring means no data, and no data means no regulations". The Commission action to break this vicious circle was the introduction of the EU watch list [18] for a short list of selected compounds. In addition, the Commission introduced IPCHEM [4] to collate monitoring data from the environment and human populations and to make these data accessible for regulation, research, and the public.
Although monitoring data for regulated substances and emerging contaminants will increase in numbers and be more accessible in the future, the question remains whether we are addressing chemical pollution in the environment in a sustainable and efficient manner. There is the impression of playing catch-up, as there is not yet an established mechanism to anticipate the challenges of the future. Effect-based tools, non-target screening techniques, passive sampling, effects directed analysis, etc. are new and promising options for future routine use in chemicals and water management.
However, it needs to be ensured that novel monitoring tools are appropriate for regulatory programs. The extra benefit of novel tools needs to be demonstrated and common harmonized practices need to be agreed upon by environment agencies before they can be written into the regulations. NORMAN has a clear role here in facilitating the transfer from science to policy. NORMAN can play an important role in the Common Implementation Strategy (CIS) of the WFD [18], in particular in bringing fresh ideas and testing of new tools to improve future strategies for water-quality monitoring.
National agencies: two examples
NORMAN in support of environmental legislation
The feedback from AFB in France was that NORMAN helps water managers. The added value of NORMAN for national activities is that NORMAN draws together expertise from across the EU and beyond, and promotes synergies across research teams: this adds significant value to the CIS in support of the WFD. Furthermore, NORMAN's strategic focus and its ability to help expertise and data sharing stimulate the development of complementary national R&D strategies.
In France, national authorities adopted NORMAN products to develop the national strategies for water management. The mechanism currently used in France for the national review of the list of River Basin-Specific Pollutants (RBSPs) and the launch of regular screening studies on emerging substances is based on the principles of the NORMAN prioritization scheme.
In this context, a dedicated "prospective" surveillance network has recently been established, which will also involve innovative tools NTS, bioassays and passive sampling, building upon the results of the NORMAN interlaboratory studies, recommendation papers, etc. The French case study is a demonstration of how EU member states and/or the EU can benefit from NORMAN activities with regard to science-to-policy links.
The view of AFB is that NORMAN goes beyond networking scientists and research institutes. It also involves regulatory agencies and industry. Thanks to this tripartite nature, the NORMAN community is aware of the requirements and challenges faced by water managers in the implementation of the current legislation and the necessary steps for the implementation of innovative tools.
The need for monitoring data in chemicals legislation
The positive impact of NORMAN as regards the generation of environmental occurrence data was addressed by the German Environment Ministry with reference to the case of biocides in the aquatic environment and the need to improve the legislation for safe marketing of biocidal products. In 2016, NORMAN organized a workshop on environmental monitoring of biocides in Europe [74]. Monitoring data can tell us whether there are shortcomings in the authorization procedure, and whether risk mitigation measures are designed in a reasonable manner. They can also serve as a means to better focus surveillance and control measures.
As yet, far less data for biocides in the environment are available in comparison with plant protection products and pharmaceuticals. New data can create pressure on policy makers for a level playing field in, e.g., regulating biocides and plant protection products with equivalent protection goals. The Directive 2009/128/EC on the "sustainable use of pesticides" [75] adopts an overarching approach to reduce the overall risks and impacts of pesticides on environment and health. The German Environment Ministry emphasized that new monitoring data for biocides can help to achieve a protection level comparable to the sustainable use law for plant protection products.
International Commission for the Protection of the Danube River
The International Commission for the Protection of the Danube River (ICPDR) stated that there is an established fruitful cooperation between the NORMAN network and the ICPDR, tested most recently on the case study of the third Joint Danube Survey (JDS) which is organized every 6 years (2001, 2007, and 2013) by the ICPDR's 14 member countries and the EU.
In JDS3 (2013), the monitoring involved a number of new techniques provided by the NORMAN network in synergy with the FP7 SOLUTIONS research project, including effect-based screening using large-volume solid-phase extraction, target, suspect and non-target screening of hundreds of organic pollutants using high-resolution mass spectrometric techniques and new passive sampling approaches to detect trace concentrations of CECs.
The prioritization methodology developed by NORMAN, which has been presented to the Monitoring and Assessment Expert Group of the ICPDR, was applied to the JDS3 results and produced a list of 20 pollutants suggested as relevant for the Danube River Basin. These substances were presented in the second Danube River Basin Management Plan published in 2015.
The above cooperation was proclaimed as a unique example of science-to-policy action in a wide European context. The next JDS is planned for 2019 and it is already foreseen that it will include large-scale analysis of CECs as well as non-target screening in surface, ground, wastewater, and biota samples.
Regional Seas Conventions and the Marine Strategy Framework Directive
The Regional Seas Conventions and the Marine Strategy Framework Directive recommended that NORMAN should take an active role in the discussions about CECs in the marine compartment. This would involve active support of NORMAN experts in the Regional Sea Conventions, non-EU Partners in shared marine basins and in the Marine Strategy Framework Directive (MSFD) [76] to define a list of compounds of sub-regional concern. According to the stakeholder, NORMAN should also have a role in ensuring improvement of the ability of laboratories to achieve quantification limits (LOQs) in line with toxicologically relevant concentrations in the marine environment.
The importance of NTS techniques for the monitoring of chemical contaminants in the marine environment was also stressed. NTS will provide major changes in policy options, but further collaboration is still required for its implementation. NORMAN should have a role in providing an independent review and support for the development and implementation of innovative techniques in the marine environment.
Finally, there is a need for a repository of geo-referenced harmonized marine data on emerging substances from scientific publications and projects.
Key recommendations
The discussions between scientists and stakeholders involved in policy-making brought up several key recommendations for NORMAN to continue its activities.
Identification and regulation of emerging substances consist of many challenges for policy and research. They include population growth and an ageing population, climate change, new materials, new technologies, and the circular economy. The vision for future chemicals policy is that pollutants should be dealt with in an integrated manner in an overarching chemicals policy framework covering all types of chemicals and all uses, beyond the current sector-specific regulations.
Monitoring data are established indicators in water and chemical management. They are used to safeguard the effectiveness of environmental policy and to trigger new regulatory actions. However, for many substances, there are no—or only insufficient—monitoring data. New analytical techniques such as NTS are likely to generate much more chemical monitoring data in the future. A wider picture of contaminants in the environment will become a challenge for environmental legislation, e.g., the WFD and chemical legislation such as REACH and the overarching Commission's 2018 Strategy for a non-toxic environment [15].
NORMAN is establishing collaborations with EU regulatory bodies, e.g., ECHA. A reliable assessment of chemicals of emerging concern in environmental media requires exposure data to be linked with information on marketed substances. Following this line, it is important to establish a mutual data exchange between NORMAN databases and IPCHEM. Some of the data that have been generated (e.g., produced by research studies) are still kept in databases with restricted access, so that they cannot be used for assessment of occurrence levels. For data produced with public funds, there should be a mechanism to make them available to the public authorities and institutional bodies by default. Furthermore, the example of per- and polyfluorinated alkyl substances (PFAS) indicates the need to look beyond the list of registered substances: only 5% of PFAS have a CAS Registry Number as a unique, unmistakable identifier for chemical substances. Novel analytical techniques such as NTS can identify the presence of these compounds in the environment.
There is still a need to better investigate individual chemicals of emerging concern and their transformation products by developing analytical methods to determine occurrence of these compounds in the environment; understanding how they may be released or formed; and identifying their potential environmental effects. For example, more research and more monitoring data may be needed for persistent and mobile organic compounds, i.e., PMOC: they are difficult to remove in WWTPs and they can, therefore, be seen as relevant emerging contaminants in the aquatic environment. However, the present process of ranking and selection of priority substances and setting of EQS does not adequately address persistent and mobile substance properties. They should, therefore, be given a higher score in the priority substances selection process to be consistent with the WFD Art. 7, protection objectives, as has been recently proposed by [77].
NORMAN has proven to be an efficient platform for new monitoring approaches. NORMAN brings together expertise from leading research groups and is consequently a reservoir for innovative initiatives. NORMAN will further promote the use of both environmental data (chemical concentrations) and biomonitoring data (data from bioassays). There is already clear evidence from recent research studies of the added value of effects based tools, e.g., in the assessment of estrogenicity [78–80]. In the future, the range of endpoints should be broadened to enable wider application in monitoring. This should involve a systematic approach for grouping of chemicals in accordance with their mode of action, use sector, etc., as the 'individual substance' regulation is not efficient enough. While the potential benefits of innovative tools and new risk assessment strategies are beyond question, it is essential to further develop the operational applicability of these tools for water management routine. Activities organized by NORMAN have already proven to be effective in laying the ground for the implementation of new strategies into policy.
So far, NORMAN has been strongly involved in issues related to chemicals of emerging concern in the freshwater cycle and the associated EU policies. NORMAN has recently extended its scope with the establishment of a new working group on CECs in the indoor environment. Likewise, there is the potential for new working groups for CECs in the marine or the terrestrial environment. Furthermore, there are new incentives for the integrated assessment and management of chemicals in the environment and human populations. Recently, the European Commission launched the human biomonitoring project HBM4EU. NORMAN has the potential to support integrated approaches for CECs and provide data and knowledge for environmental contaminants to be candidate substances for research in human biomonitoring.
Finally, a global economy results in worldwide exposure to chemical stressors, including CECs. Other countries beyond Europe are interested in the NORMAN activities and Canadian institutions are already partners of the network. Sooner or later, the extension to other regions is likely to become an issue for the NORMAN network.
Conclusions
After 10 years of activities, NORMAN has become an essential network in support of EU policies. NORMAN integrates EU-wide activities on CECs and facilitates the transfer of the state-of-the-art scientific knowledge to policy makers and regulatory bodies.
Contaminants of emerging concerns are clearly on the EU water policy agenda, e.g., the WFD, and they are also an important issue of chemicals policy, e.g., the legislation for marketing of plant protection products, biocides, and pharmaceuticals. Prioritizing chemicals in the environment for regulation is an increasingly important issue.
Progress in analytical chemistry and increasing monitoring activities reveal the occurrence of a large number of chemical substances in the environment. It is, therefore, necessary to complement the traditional approach for risk assessment with new tools. NORMAN encourages the development of collaborative R&D strategies with a view to their integration into policy. However, new techniques and new monitoring approaches need to prove that they can be used in regulatory routine programs and that they are cost-efficient. As a collaborative and multidisciplinary platform, NORMAN fosters the exchange of information, validation, and harmonization work and helps the achievement of consensus within the wider international community on the implementation of the research results into policy.
The environmental and human exposure to chemicals of emerging concern need to be assessed in a comprehensive way, taking into account all environmental compartments and the impact on human health.
Without the enormous commitment, efforts, and in-kind contributions of the NORMAN members, the NORMAN success stories would not have been possible. It is fully to be expected that this record of success will carry on into the future, as NORMAN's vision and achievements continue to support EU chemicals management.
Abbreviations
AFB:

Agence Française pour la Biodiversité
ARB:

antibiotic-resistant bacteria
ARG:

antibiotic-resistant gene
CAS:

Chemical Abstracts Service
CEC:

contaminants of emerging concern
CEN:

European Committee for Standardization
CEN TS:

CEN Technical Specifications
CIS:

Common Implementation Strategy of the WFD
DG ENV:

Directorate General for Environment of the European Commission
DG JRC:

Directorate General Joint Research Centre of the European Commission
DG Research:

Directorate General for Research and Innovation of the European Commission
DWD:

Drinking Water Directive
DWPE:

drinking water purification effort
EC:

European Commission
ECHA:

European Chemicals Agency
EDA:

effect-directed analysis
EEA:

European Environment Agency
EQS:

environmental quality standard
ICPDR:

International Commission for the Protection of the Danube River
IPCHEM:

European Information Platform for Chemical Monitoring
JDS:

Joint Danube Survey
LOQ:

limit of quantification
MSFD:

Marine Strategy Framework Directive
NTS:

non-target screening
PBT:

persistent bioaccumulable and toxic
PFAS:

polyfluorinated alkyl substances
PMOC:

persistent and mobile organic compounds
PNEC:

predicted no-effect concentrations
RBSPs:

River Basin-Specific Pollutants
SVHC:

substances of very high concern
REACH:

European Regulation on Registration, Evaluation, Authorisation and Restriction of Chemicals
UBA:

Umweltbundesamt (German Federal Environment Agency)
WFD:

Water Framework Directive
Declarations
Authors' contributions
VD and JK wrote the first draft of the manuscript. All authors read and approved the final manuscript.
Acknowledgements
We would like to acknowledge the very valuable contributions of the invited experts from stakeholder and institutional bodies who participated in the NORMAN 10th Anniversary workshop in Brussels on 26 October 2016 and activities of all members of the NORMAN Association in the past decade.
Competing interests
The authors declare that they have no competing interests.
Availability of data and materials
Not applicable.
Consent for publication
Not applicable.
Ethics approval and consent to participate
Not applicable.
Publisher's Note
Springer Nature remains neutral with regard to jurisdictional claims in published maps and institutional affiliations.
Open AccessThis article is distributed under the terms of the Creative Commons Attribution 4.0 International License (http://creativecommons.org/licenses/by/4.0/), which permits unrestricted use, distribution, and reproduction in any medium, provided you give appropriate credit to the original author(s) and the source, provide a link to the Creative Commons license, and indicate if changes were made.
Authors' Affiliations
(1)
INERIS, National Institute for Environment and Industrial Risks, Verneuil-en-Halatte, France
(2)
NIVA, Norwegian Institute for Water Research, Oslo, Norway
(3)
IVL, Swedish Environmental Research Institute, Stockholm, Sweden
(4)
Wageningen Environmental Research, Wageningen, The Netherlands
(5)
Eawag, Dübendorf, Switzerland
(6)
NILU, Norwegian Institute for Air Research, Kjeller, Norway
(7)
Environmental Institute, Kos, Slovakia
(8)
UBA, Federal Environment Agency, Dessau-Roßlau, Germany