Trends in glyphosate herbicide use in the United States and globally
Environmental Sciences Europe
Bridging Science and Regulation at the Regional and European Level
2016
28:3
Received: 11 October 2015
Accepted: 11 January 2016
Published: 2 February 2016
Abstract
Background
Accurate pesticide use data are essential when studying the environmental and public health impacts of pesticide use. Since the mid-1990s, significant changes have occurred in when and how glyphosate herbicides are applied, and there has been a dramatic increase in the total volume applied.
Methods
Data on glyphosate applications were collected from multiple sources and integrated into a dataset spanning agricultural, non-agricultural, and total glyphosate use from 1974–2014 in the United States, and from 1994–2014 globally.
Results
Since 1974 in the U.S., over 1.6 billion kilograms of glyphosate active ingredient have been applied, or 19 % of estimated global use of glyphosate (8.6 billion kilograms). Globally, glyphosate use has risen almost 15-fold since so-called "Roundup Ready," genetically engineered glyphosate-tolerant crops were introduced in 1996. Two-thirds of the total volume of glyphosate applied in the U.S. from 1974 to 2014 has been sprayed in just the last 10 years. The corresponding share globally is 72 %. In 2014, farmers sprayed enough glyphosate to apply ~1.0 kg/ha (0.8 pound/acre) on every hectare of U.S.-cultivated cropland and nearly 0.53 kg/ha (0.47 pounds/acre) on all cropland worldwide.
Conclusions
Genetically engineered herbicide-tolerant crops now account for about 56 % of global glyphosate use. In the U.S., no pesticide has come remotely close to such intensive and widespread use. This is likely the case globally, but published global pesticide use data are sparse. Glyphosate will likely remain the most widely applied pesticide worldwide for years to come, and interest will grow in quantifying ecological and human health impacts. Accurate, accessible time-series data on glyphosate use will accelerate research progress.
Keywords
Glyphosate
Herbicide use
Genetic engineering
Herbicide-tolerant crops
Roundup
Pesticide use
Background
A Swiss chemist working for a pharmaceutical company, Dr. Henri Martin, discovered glyphosate [N-(phosphonomethyl) glycine] in 1950 [1]. Because no pharmaceutical applications were identified, the molecule was sold to a series of other companies and samples were tested for a number of possible end uses. A Monsanto chemist, Dr. John Franz, identified the herbicidal activity of glyphosate in 1970, and a formulated end-use product called Roundup was first sold commercially by Monsanto in 1974 [2].
For two decades, the number and diversity of agricultural and non-farm uses grew steadily, but the volume sold was limited because glyphosate could only be sprayed where land managers wanted to kill all vegetation (e.g., between the rows in orchards and viticulture; industrial yards; and, train, pipeline, and powerline rights of way). Some applications were, and still are made after a crop is harvested, to control late-season weeds that escaped other control measures. In some regions, desiccant applications are made late in the growing season to speed up harvest operations, especially in small grain crops.
In 1996, so-called "Roundup Ready" (RR), genetically engineered (GE) herbicide-tolerant (HT) soybean, maize, and cotton varieties were approved for planting in the U.S. This technological breakthrough made it possible to utilize glyphosate as a broadcast, post-emergence herbicide, thereby dramatically extending the time period during which glyphosate-based herbicides could be applied. Alfalfa and sugar beets engineered to tolerate glyphosate were first approved and commercially marketed in 2005 and 2008, respectively, but federal lawsuits citing procedural violations of the National Environmental Policy Act delayed full commercial sales until 2011 for RR alfalfa and 2012 for RR sugar beets [3, 4].
To quantify the environmental and human health impacts stemming from pesticide use, it is essential to know how much pesticide is being applied in a region on a given crop, collectively across all crops, and in other places (e.g., forests, rangeland, along rights-of-way, industrial yards). Ideally, data are available on the land area and crops treated; the timing and method of applications; rates and number of application; the formulation applied and the total volume applied per hectare. Unfortunately, all these data are rarely available.
Rising use heightens risk concerns. Growing reliance on the broad-spectrum herbicide glyphosate has triggered the spread of tolerant and resistant weeds in the U.S. and globally [5–10]. To combat weeds less sensitive to glyphosate, farmers typically increase glyphosate application rates and spray more often [11–13]. In addition, next-generation herbicide-tolerant crops are, or will soon be on the market genetically engineered to withstand the application of additional herbicides (up to over a dozen), including herbicides posing greater ecological, crop damage, and human health risks (e.g., 2,4-D and dicamba) [6].
This paper presents trends in glyphosate use in order to help researchers better understand and quantify the risks and benefits stemming from uses of glyphosate-based herbicides. Detailed data on trends in glyphosate use in the U.S., both in and outside the agricultural sector, are presented, while the data on global glyphosate use are less complete and more uncertain. Fortunately, sufficient data are available to track the impact of GE herbicide-tolerant (HT) crops on global glyphosate-based herbicide (GBH) use since 2010 [14–17].
In order to better understand the many factors driving the trajectory of glyphosate's use and impacts, two timeline graphics are presented in the "
Discussion
" section, Fig.
1
.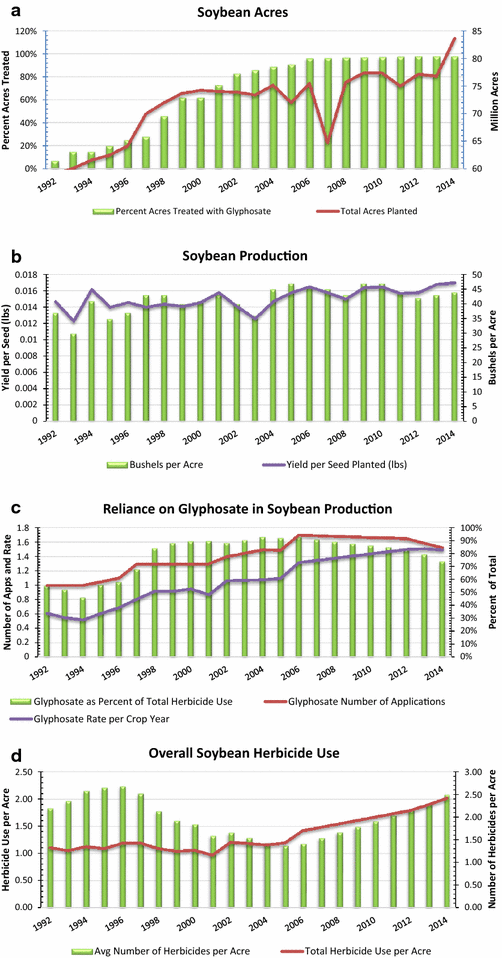 Conclusions
A high level of confidence can be placed in the trends in glyphosate use in the U.S. because of consistency across three independently compiled datasets (USDA-NASS, EPA, and USGS).
A published paper by a pesticide industry consultant provides solid data on global glyphosate use in 1994–1997, both in the agricultural and non-agricultural sectors [29]. Lack of publicly accessible data on global glyphosate use since the mid-1990s increases the uncertainty in the global estimates reported herein. However, since the majority of the increase in global glyphosate use since the late-1990s was driven by the adoption of GE-HT crops, accessible data from ISAAA and the literature on GE-HT crops provide a solid basis to project total glyphosate use on GE-HT crops over the last ~15 years.
By any measure, glyphosate-tolerant crop technology has been an enormous commercial success, and at least initially, simplified weed management in maize, soybean, and cotton crops both in the U.S. and worldwide [2, 9, 88]. For a few years post-1996, one, or at most two applications of glyphosate proved highly effective and economical on nearly all cropland planted to GE-HT seeds. As a result, the land area treated with glyphosate rose rapidly. Over time this triggered the emergence of weed phenotypes less sensitive or resistant to glyphosate. In response, farmers increased both the rate of glyphosate application as well as the number of applications [5, 6, 9, 88, 13]. Many farmers also integrated additional herbicides into spray programs [5–7, 89]. As a direct result, average herbicide use per hectare on land planted to GE-HT varieties has, on average, escalated steadily since the mid-1990s [8, 11, 88, 13].
The upward trend in glyphosate use has, and will likely continue to contribute to incremental increases in environmental loadings and human exposures to glyphosate, its major metabolite aminomethylphosphonic acid (AMPA), and various surfactants and adjuvants used in formulating end-use glyphosate-based herbicides.
Given that glyphosate is moderately persistent and mobile, levels in surface and groundwater will likely rise in step with use, and this will increase the diversity of potential routes of animal and human exposure.
Human exposures from around the home and urban uses of glyphosate also warrant closer attention. Most end-use, glyphosate products sold for home and urban use in developed countries contain relatively low concentrations of glyphosate, so the risk of experiencing an acutely toxic exposure is minimal. But in developing countries, risks stemming from applications of more concentrated glyphosate products and/or applications of "home-mixed" products should not be ignored.
The frequency and levels of glyphosate and residues in a variety of foods are increasing, and more refined dietary-risk assessments should be carried out. Reasonably accurate estimates of glyphosate residues and dietary exposures in areas lacking residue data can be made drawing on insights gained from risk assessments conducted in areas with accurate glyphosate use and residue data.
Abbreviations
AMPA:

aminomethylphosphonic acid
Bt:

Bacillus thuringiensis
EPA:

Environmental Protection Agency
GBH:

glyphosate-based herbicide
GE:

genetically engineered
GE-HT:

genetically engineered herbicide-tolerant [crop]
GMO:

genetically engineered organism
HT:

herbicide tolerant
Kg:

kilogram
NASS:

National Agricultural Statistics Service (a USDA agency)
RR:

Roundup Ready
USDA:

United States Department of Agriculture
USGS:

United States Geological Service
Declarations
Authors' information
The author (CMB) conducted the research and wrote the paper while serving as a Research Professor at Washington State University (position ended 5/15/15). CMB ran the "Measure to Manage" program within the Center for Sustaining Agriculture and Natural Resources, and has worked for years compiling data on pesticide use in the U.S. and globally.
Acknowledgements
The author thanks his colleagues at Washington State University's Measure to Manage Program for assistance in developing the datasets and carrying out the analysis. Karie Knoke compiled the glyphosate use dataset and produced the figures. Nicholas Potter helped develop the tables and refine the analysis. Reviewers provided helpful suggestions for improvement. Also, thanks to the U.S. Department of Agriculture's National Agricultural Statistics Service (NASS) for compiling and making available information on pesticide use in the U.S., and to the EPA for its helpful periodic reports on pesticide use.
Competing interests
The author is a member of the U.S. Department of Agriculture's AC21 Agricultural Biotechnology Advisory Committee. From June 2012–May 2015, he served as a Research Professor at Washington State University. Dr. Benbrook's program at WSU received funding from foundations, organic food companies, and coops. He currently serves as an expert witness in litigation focused on the labeling of foods containing genetically engineered ingredients.
Open AccessThis article is distributed under the terms of the Creative Commons Attribution 4.0 International License (http://creativecommons.org/licenses/by/4.0/), which permits unrestricted use, distribution, and reproduction in any medium, provided you give appropriate credit to the original author(s) and the source, provide a link to the Creative Commons license, and indicate if changes were made.
Authors' Affiliations
(1)
Benbrook Consulting Services, Enterprise, USA