Microplastics in freshwater ecosystems: what we know and what we need to know
Environmental Sciences Europe
Bridging Science and Regulation at the Regional and European Level
2014
26:12
Received: 24 April 2014
Accepted: 16 May 2014
Published: 9 July 2014
Abstract
Background
While the use of plastic materials has generated huge societal benefits, the 'plastic age' comes with downsides: One issue of emerging concern is the accumulation of plastics in the aquatic environment. Here, so-called microplastics (MP), fragments smaller than 5 mm, are of special concern because they can be ingested throughout the food web more readily than larger particles. Focusing on freshwater MP, we briefly review the state of the science to identify gaps of knowledge and deduce research needs.
State of the science
Environmental scientists started investigating marine (micro)plastics in the early 2000s. Today, a wealth of studies demonstrates that MP have ubiquitously permeated the marine ecosystem, including the polar regions and the deep sea. MP ingestion has been documented for an increasing number of marine species. However, to date, only few studies investigate their biological effects.
The majority of marine plastics are considered to originate from land-based sources, including surface waters. Although they may be important transport pathways of MP, data from freshwater ecosystems is scarce. So far, only few studies provide evidence for the presence of MP in rivers and lakes. Data on MP uptake by freshwater invertebrates and fish is very limited.
Knowledge gaps
While the research on marine MP is more advanced, there are immense gaps of knowledge regarding freshwater MP. Data on their abundance is fragmentary for large and absent for small surface waters. Likewise, relevant sources and the environmental fate remain to be investigated. Data on the biological effects of MP in freshwater species is completely lacking. The accumulation of other freshwater contaminants on MP is of special interest because ingestion might increase the chemical exposure. Again, data is unavailable on this important issue.
Conclusions
MP represent freshwater contaminants of emerging concern. However, to assess the environmental risk associated with MP, comprehensive data on their abundance, fate, sources, and biological effects in freshwater ecosystems are needed. Establishing such data critically depends on a collaborative effort by environmental scientists from diverse disciplines (chemistry, hydrology, ecotoxicology, etc.) and, unsurprisingly, on the allocation of sufficient public funding.
Keywords
ChemistryEcotoxicologyEnvironmental qualityLitterMicroplasticsMonitoringPlasticsPolymersReviewWater framework directive
Background
Microplastics are freshwater contaminants of emerging concern
Among the multiple human pressures on aquatic ecosystems, the accumulation of plastic debris is one of the most obvious but least studied. While plastics generate remarkable societal benefits [[1]], there are downsides to our 'plastic age'. Durability, unsustainable use, and inappropriate waste management cause an extensive accumulation of plastics in natural habitats [[2]]. In the marine environment, plastics of various size classes and origins are ubiquitous and affect numerous species that become entangled in or ingest plastics [[3]].
Under environmental conditions, larger plastic items degrade to so-called microplastics (MP), fragments typically smaller than 5 mm in diameter (see Table
1
for further information). Besides these degradation products (secondary MP), MP can also be produced as such (primary MP). For instance, MP are intentionally used as resin pellets (raw material for the production of plastic products) or as ingredient of personal care products (e.g., peelings and shower gels).
Table 1
Classification of environmental (micro)plastics
| | |
| --- | --- |
| Category | Description |
| Classification | Environmental plastics are a very heterogeneous group of litter that can be characterized by various descriptors. In the literature, they are frequently stratified according to size, origin, shape, polymer type, and color. So far, there is no common classification system. Recently, the European MSFD Working Group on Good Environmental Status (WG-GES) provided a 'Monitoring Guidance for Marine Litter in European Seas' [[76]], which represents an important step towards a standardized sampling and monitoring of marine microplastics. |
| Size | The WG-GES defines size classes for plastic litter as follows: macroplastics (>25 mm), mesoplastics (5 to 25 mm), large microplastics (1 to 5 mm), and small microplastics (20 μm to 1 mm). Accordingly, items smaller than 20 μm will classify as nanoplastics. |
| Origin | Microplastics can also be categorized according to its origin: Primary microplastics are produced as such, for instance as resin pellets (raw materials for plastic products) or as additives for personal care products (e.g., shower gels and peelings). Secondary microplastics are degradation products of larger plastic items, which are broken down by UV radiation and physical abrasion to smaller fragments. |
| Polymers | The polymer type of environmental (micro)plastics can be determined by Fourier transformed infrared spectroscopy (FT-IR) or Raman spectroscopy. In concordance to global production rates, high- and low-density polyethylene (HD/LD-PE), polyethylene terephthalate (PET), polypropylene (PP), polystyrene (PS), and polyvinyl chloride (PVC) are the most common polymers found in the environment. In addition, polyamide fibers (nylon) from fishing gears are frequent. |
| Shape | The shape can be described according to the main categories: fragments (rounded, angular), pellets (cylinders, disks, spherules), filaments (fibers), and granules [[76]]. |
MP are of special concern since their bioaccumulation potential increases with decreasing size. MP may be ingested by various organisms ranging from plankton and fish to birds and even mammals, and accumulate throughout the aquatic food web [[4]]. In addition, plastics contain a multitude of chemical additives [[5]] and adsorb organic contaminants from the surrounding media [[6]]. Since these compounds can transfer to organisms upon ingestion, MP act as vectors for other organic pollutants [[7]] and are, therefore, a source of wildlife exposure to these chemicals [[8],[9]].
Accordingly, MP are considered an emerging global issue by various experts [[10],[11]] and international institutions [[12],[13]]. These concerns and the public interest, however, focus almost exclusively on marine plastic debris. However, we argue that microplastics are also freshwater contaminants of emerging concern. This is supported by three arguments. First, although data is scarce, MP are present in freshwater ecosystems. Second, MP contain and adsorb micropollutants and pathogens. Third, laboratory studies demonstrate that marine organisms ingest MP and suffer adverse effect. While data on freshwater species is scarce, there is no reason to suppose that they remain unaffected. Thus, concerns about the impact of MP on freshwater ecosystems are legitimate and should receive more scientific attention.
State of the science: focus on marine microplastics
So far, scientific efforts focus on marine MP, and studies on their abundance and effects become increasingly available. Because of its high mobility, plastic debris has practically permeated the global marine environment [[14],[15]], including the polar regions [[2]], mid-ocean islands [[16]], and the deep sea [[17]]. Because of their specific hydrology, the large oceanic gyres are hot spots of plastic pollution (colloquially termed 'garbage patches'), accumulating buoyant plastic debris. Here, the plastic abundance often exceeds that of zooplankton [[18]-[21]]. With respect to Europe's regional seas, MP have been reported for the Baltic, North, and Mediterranean Sea [[22]-[25]].
Most of the studies investigate neustonic and pelagic MP. However, MP are also present in sediments and have been detected on the shorelines and seafloors of six continents [[15],[26],[27]] with typical concentrations ranging from 1 to 100 items kg−1 [[28]]. A Belgian study reports a maximum of 400 items kg−1 in coastal harbor sediments [[29]]. Higher concentrations were reported in a Dutch study with 770 and 3,300 items kg−1 dry weight sediment in the Wadden Sea and the Rhine estuary, respectively [[30]]. Although abundant ubiquitously, the spatial distribution of MP in the marine environment is very heterogeneous [[14]]. This might be partly due to differences in methodology [[28]].
Field reports on detrimental interactions of plastics with biota (e.g., entanglement) are manifold [[4]]. However, only about a dozen studies have investigated MP uptake and effects under laboratory conditions, including two studies on freshwater species (literature search on ISI Web of Science, search term 'microplastic*' , manual filtering). With nine of these papers published since 2012, this is a very recent area of research. The ingestion of MP by marine invertebrates has been demonstrated in the laboratory for a broad spectrum of marine species: zooplankton [[31]-[33]], the lugworm Arenicola marina [[34]], the Blue mussel Mytilus edulis [[35]-[37]], and the sandhopper Talitrus saltator [[38]]. M. edulis is the only invertebrate in which the transfer of MP from the digestive tract to tissue has been studied and documented [[35],[36]].
Data on the effects of MP exposure is limited. For zooplankton, a reduced algal feeding has been observed [[31]]. MP increased the mortality and decreased the fertility in copepods [[32]]. In the lugworm, MP reduced the weight and feeding and increased the bioaccumulation of plastic-associated polychlorinated biphenyls (PCBs) [[34]]. Reduced filtering activity and histological changes as response to inflammation have been reported for M. edulis [[36],[37]], although another study did not find significant effects [[35]]. In the only study with marine vertebrates, the common goby Pomatoschistus microps was exposed to MP and pyrene [[39]]. MP delayed the pyrene-induced mortality but induced several toxicity biomarkers. In addition, two recent studies demonstrate the trophic transfer of MP along the marine food web from meso- to macrozooplankton [[33]] and from mussels to crabs [[40]].
Conclusions
Knowledge gaps and research needs
The investigation of (micro)plastics in aquatic environments is a highly dynamic and interdisciplinary area of research covering and bringing together the disciplines of oceanography and hydrology as well as environmental monitoring, modeling, chemistry, and toxicology. In recent years, this collaborative effort advanced our understanding of the environmental impact of MP, especially by providing extensive monitoring data. Ongoing research activities focus, however, almost exclusively on marine MP.
Data on freshwater ecosystems is at best fragmentary if not absent. This lack of knowledge hampers a science-based environmental risk assessment of freshwater MP. Such assessment is needed to facilitate a societal and political discussion at national and European levels on the issue, which, depending on the outcome, will result in mitigation measures eventually. For instance, MP could be integrated as descriptor of environmental status in the WFD. However, environmental scientists first need to close the gaps of knowledge with regard to exposure and hazard of freshwater MP and the associated chemicals. Based on the current state of the science, the following research needs emerge (Figure
2
):
1.

Monitoring the presence of microplastics in freshwater systems. While few studies on large lakes and rivers are available, we have no clear picture on the magnitude of the plastics pollution in surface waters. Generating comprehensive monitoring data on the abundance of freshwater MP is needed to understand their environmental impact.

2.

Investigating the sources and fate of freshwater microplastics. Currently, we still do not understand the behavior of MP in aquatic ecosystems. Based on data on their abundance, modeling approaches are needed to identify hotspots and sinks and quantify loads. One important aspect of understanding the environmental fate is also to identify relevant inland sources of MP and determine the fragmentation rates of large plastic debris.

3.

Assessing the exposure to microplastics. With evidence coming from marine species, it appears plausible that freshwater organisms will ingest MP, too. However, actual data is scarce. Environmental toxicologists need to determine the intake of MP by freshwater key species. It will be crucial to understand which plastic characteristics (size, material, and shape) promote an uptake and what is the fate of MP in the biota (e.g., excretion, accumulation, and infiltration of tissues). These aspects need to be studied under laboratory conditions and in the field to determine the actual exposure.

4.

Evaluating the biological effects of microplastics exposure. Besides abundance and exposure, the question whether MP induce adverse effects in organisms is crucial to determine their environmental hazard. In the absence of effect studies on freshwater species, one can only speculate on potential sensitive endpoints: Ingested plastic fragments may most likely affect the metabolism (starvation due to decreased energy intake) and induce inflammation (when transferring to tissues). Because this is an area of research where the least progress has been made so far, the investigation of MP effects on marine and freshwater species need to be intensified considerably.

5.

Understanding the interaction between microplastics and other freshwater contaminants. Plastics itself can contain and release toxic chemicals (e.g., monomers or plastic additives [[75]]). In addition, they can accumulate environmental chemicals from the surrounding. This may increase the chemical exposure of the ingesting organism and, thus, toxicity. The findings on chemicals associated with marine MP (mostly POPs) cannot be transferred to freshwaters because here the spectrum and concentrations of pollutants is very different. Therefore, it is important to investigate the chemical burden of freshwater MP, including the absorption/desorption kinetics and the transfer of chemicals from plastics to biota.

6.

Develop a novel framework for the risk assessment of microplastics. MP can be direct and indirect stressors for the aquatic environment: They are contaminants of emerging concern per se and, in addition, may serve as vectors for invasive species and for other pollutants. To account for that, the classical risk assessment framework needs to be adapted. For instance, the mixture toxicity of MP-associated compounds and the modulation of the compounds' bioavailability need to be integrated.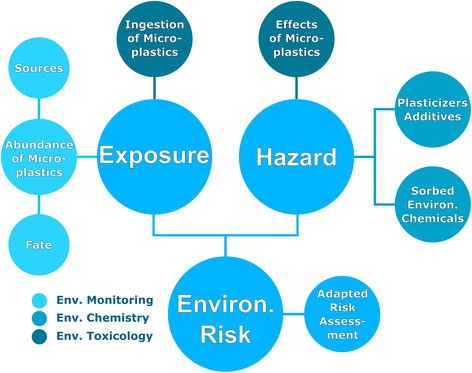 There are some challenges in investigating these aspects: To generate commensurable data on the abundance of freshwater MP, harmonized monitoring procedures, including sampling, identification, and characterization, are needed. For that, the 'Monitoring Guidance for Marine Litter in European Seas' developed by the European MSFD Working Group on Good Environmental Status [[76]] provides an excellent starting point. The separation of MP from the sample materials (sediments or suspended particulate matter) and the confirmation of the plastics' identity to avoid misclassification is still a very resource-consuming and biased process (e.g., when visually identifying MP in complex samples). Here, sample throughput and accuracy need to be increased. Likewise, we need to improve the capability to detect very small MP in the low micrometer range. Boosting technological innovation in the area of MP research (e.g., coupling of microscopy and spectroscopy to identify very small MP) will help meet those challenges.
In conclusion, based on our knowledge on the environmental impact of marine MP, their freshwater counterparts should be considered contaminants of emerging concern. However, there is a considerable lack of knowledge on MP in surface waters worldwide. Data on their presence, sources, and fate is scarce if not absent. The same is true for their chemical burden and biological effects. To enable science-based environmental risk assessment of freshwater MP, it is imperative to initiate coordinated and collaborative research programs that close these gaps of knowledge.
Abbreviations
EDCs:

endocrine-disrupting compounds
FT-IR:

Fourier transformed Infrared spectroscopy
HD/LD-PE:

high-/low-density polyethylene
MP:

microplastics
MSFD:

European Marine Strategy Framework Directive
PAHs:

polycyclic aromatic hydrocarbons
PBTs:

persistent, bioaccumulative, and toxic compounds
PCBs:

perchlorinated biphenyls
PET:

polyethylene terephthalate
POPs:

persistent organic pollutants
PP:

polypropylene
PS:

polystyrene
PVC:

polyvinyl chloride
WFD:

European Water Framework Directive
WWTPs:

wastewater treatment plants
Declarations
Acknowledgements
This work was, in part, funded by the German Federal Institute of Hydrology.
Authors' Affiliations
(1)
Department of Aquatic Ecotoxicology, Goethe University Frankfurt am Main, Frankfurt, Germany
(2)
Catalan Institute for Water Research (ICRA), Girona, Spain
(3)
Department Biochemistry and Ecotoxicology, Federal Institute of Hydrology, Koblenz, Germany
(4)
Service Etat des Eaux Evaluation Ecologique, Agence de l'Eau Loire-Bretagne, Ploufragan, France
(5)
Water, Environment and Eco-technologies Division, Bureau de Recherches Géologiques et Minières (BRGM), Orléans, France
(6)
GéoHydrosystèmes Continentaux (GéHCO), Université Francois Rabelais de Tours, Tours, France
(7)
Institute of Environmental Systems Research, Universität Osnabrück, Osnabrück, Germany
(8)
Investigación y Proyectos Medio Ambiente S.L. (IPROMA), Castellón de la Plana, Spain
(9)
Interdisciplinary Centre of Marine and Environmental Research (CIIMAR), Porto, Portugal
(10)
Unit Marine and Coastal Systems, Deltares and Institute for Environmental Studies, VU University Amsterdam, Amsterdam, The Netherlands
(11)
Environment and Toxicology, DHI, Hørsholm, Denmark
Copyright
© Wagner et al.; licensee Springer 2014
This article is published under license to BioMed Central Ltd. This is an open access article distributed under the terms of the Creative Commons Attribution License (http://creativecommons.org/licenses/by/4.0), which permits unrestricted use, distribution, and reproduction in any medium, provided the original work is properly credited.