Simulating the yields of bioenergy and food crops with the crop modeling software BioSTAR: the carbon-based growth engine and the BioSTAR ET0 method
Environmental Sciences Europe
Bridging Science and Regulation at the Regional and European Level
2014
26:1
Received: 20 September 2013
Accepted: 6 December 2013
Published: 21 January 2014
Abstract
Background
With a growing production and use of agricultural substrates in biogas facilities, the competition between food and energy production, environmental issues, and sustainability goals has seen an increase in the last decade and poses a challenge to policy makers. Statistical yield data has a low spatial resolution and only covers standard crops and makes no statement in regard to yields under climate change. To support policy makers and regional planners in an improved allocation of agricultural land use, a new crop model (BioSTAR) has been developed.
Results
Simulations with weather and yield data from 7 years and four regions in Lower Saxony have rendered overall good modeling results with prediction errors (RMSE and percentage) ranging from 1.6 t and 9.8% for winter wheat to 2.1 t and 11.9% for maize. The model-generated ET0 and ETa values (mean of four locations) are lower than ET0/ETa values calculated with the Penman-Monteith method but appear more realistic when compared to field trial data from northern and eastern Germany.
Conclusions
The model has proven to be a functioning tool for modeling site-specific biomass potentials at the farm level, and because of its Access® database interface, the model can also be used for calculating biomass yields of larger areas, like administration districts or states. Out of the seven crops modeled in this study, only limited yield and test site data was available for winter barley, winter rye, sorghum, and sunflower. For further improvement of model performance and model calibration, more trial data and data testing are required for these crops.
Keywords
Crop modelingEnergy cropsBioSTARBiomass potentialsEvapotranspiration modeling
Background
The demand for biomass from agricultural resources as an energy source is currently seeing a strong increase. This is particularly true for Germany, as the country is trying to double the share of bioenergy (agricultural, forest, and waste biomass combined) to the country's energy total by the year 2020 [1].
In 2011, 2.2 million ha of the total agricultural area (17 million ha) was already in use for either energy crop production or renewable primary products. Of this area, 800,000 ha was in use for biogas crops, mainly maize, 900,000 ha for oilseed rape (mainly for biodiesel production) and, the smallest share, 250,000 ha for starch and bioethanol production. By 2020, the agricultural area in use for renewable resource production in Germany is projected to be further expanded and will then have a share of around 20% of the country's total agricultural area. Even though Germany's food production is close to self-sufficient today, a growing competition between food production, environmental issues, sustainability goals, and the production of energy and renewable primary products is moving into the focus of policy makers and researchers. At present, the production of biogas from energy crops and agricultural wastes (manure and other residual materials) appears to be the most (land resource) efficient way to use agricultural areas for energy production. This is due to the relatively high energy yield of biogas per hectare [2]. This advantage of biogas is even higher when power-heat cogeneration technology is applied.
In an intensively used agricultural landscape, as it is the case in Germany, good management and farming practices and diverse crop rotation cycles are of importance, and the introduction of new energy crops into the existing crop rotation cycles can be beneficial for ecological reasons [3, 4]. One research project working on this interdisciplinary topic is the currently running bioenergy project of the University of Göttingen [5].
On the contrary, using mainly maize as a substrate in biogas facilities can lead to monocultures, soil erosion, and nitrate problems in the drinking water. This is even exacerbated in areas where a lot of maize is already grown for animal feed as is the case in the western part of Lower Saxony.
Using a crop modeling tool, yield differences of different crop rotations and crops can be approximated and optimized solutions, with economical as well as ecological perspectives in view, can be found out.
Crop models have been in existence for about four decades now [6]. Resource capture of an agricultural crop can be implemented in a model in different ways. Commonly used approaches are either carbon-based [7], radiation use efficiency (RUE)-based [8], water productivity-based (WP) [9], or transpiration-based (BTR) [10].
BioSTAR's primary growth engine is carbon-based, and it uses an asymptotic exponential light response curve [11]. Among the well-known crop models, the RUE approach is probably the one which is most often used. Examples for crop models with this type of growth engine are CropSyst [12], APSIM [13], CERES (DSSAT) [14], and LINTUL. Carbon-based growth engines are used in all of the older models from Wageningen such as WOFOST and in the model CROPGRO (DSSAT).
The water productivity approach is relatively new [15], and it has been implemented in the model AquaCrop [16]. The transpiration-based growth engine (BTR) is used as a second growth engine in the model CropSyst. Because the Tanner-Sinclair relationship becomes unstable at low VPD, the RUE method is used as a main growth engine in the model CropSyst.
Even though there are numerous crop models in existence today, no single model can claim to adequately cover all possible demands a user might put to such a model. One big advantage of developing a new model is the ability to structure and build the model according to user specifications and to be able to modify it and add on to it to suit future demands.
The crop model Biomass Simulation Tool for Agricultural Resources (BioSTAR) [17, 18] has been developed to simulate climate and soil-dependent biomass yields for bioenergy crops, but obviously it can also be used to predict yields for food crops like wheat or rye. The model's software is built in such a way that, depending on the resolution of the input data, large-scale (single plots or farms) or small-scale (larger areas with many input datasets) yield predictions can be generated very easily. Novelties in the BioSTAR crop modeling software are a MS Access® database connection for fast data editing and organization and the possibility to choose between four different growth engines and four ET0 methods. Validation runs for several agricultural crops grown in Lower Saxony have proven the models' capability to serve as a user-friendly biomass simulation tool for small- and large-scale agricultural planning.
Results and discussion
Biomass yields
To validate the model BioSTAR, yield, soil, and climate data from five different locations in Lower Saxony, Germany have been used. The first two locations are farm plots in Hedeper and in Troegen. The other two are field trial sites of the Chamber of Agriculture of Lower Saxony (LWK), situated in Poppenburg and in Werlte. Winter wheat and maize were grown at all four localities, sunflower, sorghum, winter rye, and winter barley only in Poppenburg and Werlte, and sugar beet only in Hedeper.
Looking at the other statistical measure for model prediction accuracy, the Willmott index of agreement, the resulting order of the crops is a different one. Now maize and beet (clay) are ranked first, both with a WIA of 0.94 followed by winter wheat (0.86), beet (no clay) (0.85), and sorghum (0.78). The lower ranks are now occupied by beet (all) (0.77), winter rye (0.73), winter barley (0.64), and sunflower (0.56). All crops combined in one analysis have achieved a high WIA of 0.92.
Evapotranspiration levels
Unlike other crop models, BioSTAR can generate its own crop and phenology-dependent potential transpiration rates (see 'Main model processes') to which a leaf area-dependent soil evaporation value is added. In Figure
11
, the mean values of all four locations of the simulation and all 7 years of the BioSTAR ET
0
(potential evapotranspiration) and ET
a
(actual evapotranspiration) method are displayed along with the corresponding Food and Agriculture Organization (FAO) (Penman-Monteith) values calculated for these years. For both calculations a maize crop with a cropping period from the end of April until the beginning of September was chosen. ET
0
values calculated with the BioSTAR method are considerably lower than their FAO method equivalents. To a lesser extent, this is also true, when the ET
a
values of the two methods are compared. The BioSTAR ET
0
and ET
a
values range from 543 mm (2008) to 430 mm (2007) and from 423 mm (2007) to 349 mm (2012), respectively. The FAO curves for ET
0
and ET
a
follow a similar inter-annual trend but at levels which are approximately 200 mm (ET
0
) and 50 mm (ET
a
) above the BioSTAR values. The high ET
0
values of the FAO calculation can be explained by the fact that no crop or phenology parameters have been considered here (grass reference evapotranspiration). Looking at the literature data for ET
a
values for northern and eastern Germany, the FAO values appear to be overestimated. Haferkorn [
20
] and Zenker [
21
] give ET
a
values for various crops measured by lysimeters in eastern Germany, ranging from 280 to 530 mm (April until September), with average values around 350 mm. The DVWK [
22
] estimates the share of the evapotranspiration from May until September to be about 70% of the year's total precipitation. Since Germany's climate is of a humid character and average annual precipitation values range between 600 and 800 mm, annual evapotranspiration for this climate is not likely to be higher than 600 mm. In fact the DVWK gives an average annual evapotranspiration value (ET
a
) of 433 mm for northern Germany. Eulenstein et al. [
23
] give annual ET
0
values for eastern Germany for the years 1971 to 1998 ranging from 420 to 680 mm (the approximate mean is around 570 mm). Additionally it needs to be mentioned that eastern Germany has a more arid and continental climate than Lower Saxony.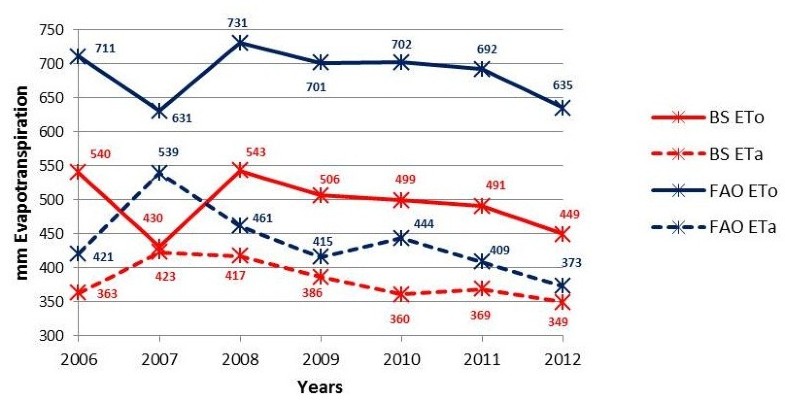 In comparison with this data, the BioSTAR ET0 and ETa values seem to be more realistic than the FAO values and underline the relevance of this ET method for the computation of crop biomass potentials.
Conclusions
The performance of the crop model BioSTAR has been tested with datasets from four locations in Lower Saxony, Germany for seven agricultural crops. The model predicts biomass yields for all crops combined at a satisfactory level (mean error of 12.1%). The yields of all crops have been predicted by the model with errors ranging from 8.4% (winter wheat) to 12.1% (maize). The model has proven to be a functioning tool for modeling site-specific biomass potentials at the farm level. Because of its Access® database interface, the model can also easily be used for the prediction of potential biomass yields of larger areas, like administration districts or states and can therefore serve as a decision support tool when questions of regional and trans-regional crop planning are concerned. Because the model reacts adequately to inter-annual climatic differences, transferability to different climates is probably possible but still needs to be validated. BioSTAR offers its own method for calculating evapotranspiration during the course of crop growth. The model-generated evapotranspiration levels are lower than the ones calculated using the Penman-Monteith approach but seem to be closer to actually measured ET values in northern and eastern Germany.
Out of the seven crops modeled in this study, only limited yield and test site data was available for winter barley, winter rye, sorghum, and sunflower. For further improvement of model performance and model calibration, more trial data and data testing are required here. The reaction of the sugar beet yield development on clay-type soils still needs to be investigated further and improved in the model. Up to date (September 2013), the model is capable of simulating the general reaction of crops to water and nitrogen stress. To further expand the models' range of application, soil salinity content and related salinity stress reaction of plants should be implemented in the model.
Grasses and perennial cultures like the cup plant (Silphium perfoliatum) or short rotation coppices like poplar or willow are potential cultures for bioenergy production in the German agricultural sector. Up to date (September 2013), the model BioSTAR is capable of modeling these cultures, but calibration and validation still have to be performed before the model can be used for yield prediction of these cultures.
Abbreviations
APSIM:

agricultural production simulator
AquaCrop:

FAO crop model
BBCH/EC scale:

growth scale of monocot and dicot plants
BioSTAR:

Biomass Simulation Tool for Agricultural Resources
CERES:

crop model in the DSSAT family
CROPGRO:

crop model in the DSSAT family
CropSyst:

cropping systems model
DSSAT:

decision support system for agronomy transfer
ETa:

actual evapotranspiration rate
ET0:

potential (reference) evapotranspiration rate
FAO:

Food and Agriculture Organization
LINTUL:

crop model in the Wageningen family
LWK:

Landwirtschaftskammer (Niedersachsen)
RMSE:

root-mean-square error
RUE:

radiation use efficiency
VPD:

vapor pressure deficit of the air
WIA:

Willmott index of agreement
WOFOST:

crop model in the Wageningen family.
Declarations
Acknowledgements
The development of the model BioSTAR has been made possible by funds of the Lower Saxony Ministry of Sciences and Culture (Germany). The research group responsible for developing the model is part of the interdisciplinary research project 'Sustainable use of bioenergy: bridging climate protection, nature conservation and society,' sub-project 2.2 'bioenergy potentials.'
Authors' Affiliations
(1)
Department of Cartography, GIS and Remote Sensing, Research Project 'BIS', University of Göttingen, Göttingen, Germany
Copyright
© Bauböck; licensee Springer. 2014
This article is published under license to BioMed Central Ltd. This is an Open Access article distributed under the terms of the Creative Commons Attribution License (http://creativecommons.org/licenses/by/2.0), which permits unrestricted use, distribution, and reproduction in any medium, provided the original work is properly cited.